Safe and Healthy Environment!!
Event Cleaning
Event and party cleaning services in Doha, Qatar are provided by Cleanology cleaning services. In today's world, organizing an event or a party is a necessity for a variety of reasons.
Events can create a lot of traffic, so it's important to clean thoroughly yet quickly to get the event space back in use as soon as feasible. It takes a lot of time and effort to prepare and run a large event. Cleaning up messes that attendees of the event leave at the venue is the last thing you want to deal with after the event. Your location will be ready to use again quickly thanks to our event cleaning service.
Our staff clean venues before, after, and during weddings, trade shows, festivals, grand openings, conventions, parties, and exhibitions, among other events. to the best possible standards.
In order to ensure that your venue is back to normal as soon as possible after your event has concluded, our Post Event Cleaning Service company in Qatar provides a professional event cleaning service.
All function locations and types are catered for by our pre-event cleaning services. We provide cleaning prior to the event in accordance with your needs, and our staff always makes sure the venue is tidy and clean when the event is about to start.
Will you have the stamina to clean up and restore the venue to its ideal condition after your major event is over? After the event, our team will clean. Our employees are educated to handle themselves properly and are professionals. Each team has a supervisor and team leader who is in charge of the team members' behavior and makes sure that cleaning is done in accordance with the necessary corporate standards.
Why use Cleanology Cleaning Company for your events cleaning requirements: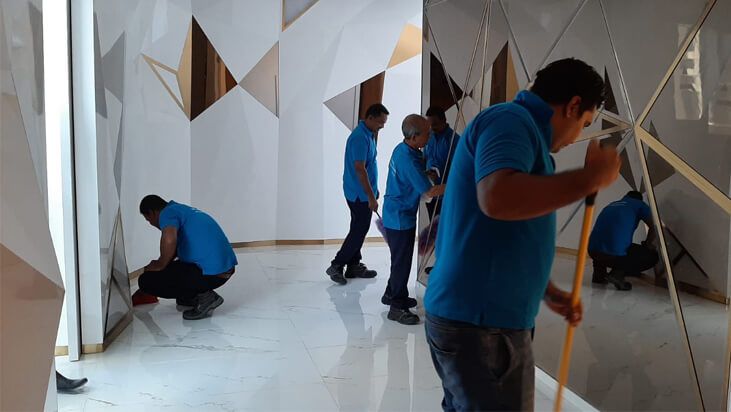 Our employees are knowledgeable, skilled, and taught to act professionally in all work settings.
We go above and beyond for our clients' cleaning needs.
With our clients, we have developed enduring relationships.
Your Clients & Employees
Deserve A Clean, Safe and
Healthy Environment!!
We continuously invest in improving our processes, our employees and our relationship with each and every business we serve.